STAFF BIOS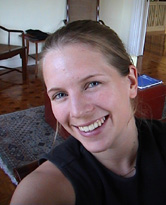 Sarah Reed Bargren

Born and raised in Tacoma, Washington, I headed to Colorado where I attended college at the Colorado College.

After describing my project to people they generally want to know "Why?" To explain why I created therewewere I'll begin by defining where I initially formed this interest.

I don't know precisely where I developed this curiosity. I've traveled to many places for many reasons, including work, school, and pleasure. Through my experiences traveling I've developed a curiosity for other cultures. But I can't claim that traveling was where this intrigue originated.

Where I developed this interest is somewhere in the pages of a worn National Geographic Magazine; hiding on the stages of various plays, and floating in a drainage ditch, next to piles of newsprint and Kleenexes; sitting somewhere in the Christmas carols, the national anthems, and the doctor's offices. This interest came from wanting to know more about the common human condition and spirit. Humans, as animals, want to fit in with their fellow humans. This project was influenced by a desire to understand the human process of fitting in -- how different societies create different conditions that enable their inhabitants to "fit in" and live together in harmony -- and how we, as a globally evolving society, can help smooth the transition for all peoples of all cultures.

I will tell you why I created therewewere. I wanted to do this project because of education, simple as that. I wanted to educate myself and whomever followed the therewewere participants. My goal in doing this is that we all learn from these experiences and discover a little more about ourselves in others, bringing, like technology, everyone closer together.


---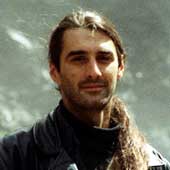 Jeff Mihalyo (therewewere site redisigner)



After attending art school in Los Angeles, I returned to the Seattle area where I was raised in order to be near my roots and to begin my profession as an artist.

For the following ten years, I had been funding my painting carrier by working for various software companies designing interfaces, websites, animation and illustrated content for educational products. Among some of those companies are Microsoft, Nintendo, RealNetworks, and DreamWorks.

Reed and I met while working for a mutual friend as a summer intern for ArtAccess magazine in 1999. I had been interested in the Therewewere project because it connected several areas of interest for me. -Namely travel, education, and web design. In addition I have deep interest in history, culture, archeology, and anthropology. Therewewere also sounded like it had great possibilities in bridging the gap between people in a world filled with conflict. - Perhaps this project could bring a sense of understanding and positive change into the world.

After more than a year of content gathered by Reed and others for the therewewere.com web site, it became obvious to me that the site needed a full redesign. The presentation of which should exemplify the amazing journeys undertaken by Reed and other adventurous individuals associated with the Therewewere project.

It is my hope that you the reader find the content within therewewere as interesting and accessable as I did while putting the pages back together.